Delhi, the capital of India, is a home of 30 millions of people who come from length and breadth of India. Delhi has been in a limelight throughout the history many dynasties have fought for it due to its prized location therefore; many battles were fought between Indigenous rulers and foreign invaders. The city had been plundered many a time for instance during the battle of Tarain, Panipat, Invasion Of Taimur The Lamb, Nadir Shah, Ahamad Shah Abadali etc. most of the rulers had shown its artistry skills in form of building monuments are treated as a legacy of bygone dynasties. Therefore, the city adorned dozen of monuments, but here are the top 10 most visited tourist attractions in Delhi that you must visit during your India tour.
1. Qutab Minar
First and foremost tourist attraction in Delhi is Qutab Minar, built in the reign of Qutb al-Din Aibak who was the first sultan as well as founder of slave dynasty. The construction work this tower began in 1198 and completed by his son in law Iltutmish in 1215 AD. It boasts 5 stories along with a flight of steps which lead till the 5th flour are decorated with impressive carving in red sandstone except 4th and 5th flour are made of white marble. It is very strong and tall, however, was struck by thunder lightening during the Tughlaq and British period. During the British era, Smith kept a copula on the top of this monument, but later on it has been taken off and kept in its complex and is known as Smiths' folly. This massive tower has influence of Hindu, Turkish, Islamic architecture which can be a great place for those who are history lovers.
2. Humayun Tomb
Second on the list of tourist attractions in Delhi is Humayun tomb which is known as a private mortuary of Mughal rulers as well as its kith and kins, commissioned by the chief consort, Hazi Bega Begum in 1565 appointing Mirak Mirza Ghiyas and his son Sayyid Muhammad. Bega Begum has selected its location which is in the vicinity of tomb of Hazarat Nizamuddin Auliya, sufi saint. The architecture of this building is so appealing. It is a fusion of Persian, Islamic, and Hindu's, therefore, it draws millions of national and international tourists across the globe. It is also the first tomb with octagonal garden based on charbagh theory in this subcontinent.     
3. Red Fort
Situated in the downtown of the city is a one of the UNESCO World Heritage Sites built by 5th Mughal ruler, Shah Jahan in 1638, used to act as a capital of India. Its massive layout and architecture is a confluence of Persian, India, and Turkish was taken from Agra Fort.  It houses many beautiful palaces including, Diwan-i-am, Diwan-i-Khas, Khas Mahal,Hamam, Baoli, Hira Mahal, Prince's quarter, etc. If you are keen to see the regal lifestyle of Mughal, no other places can be as appealing as this one therefore; millions of people from across the globe come here to visit this place. In the list of tourist attractions in Delhi this fort comes on the third number.
4. Jama Masjid (Mosque)
Nestled in the vicinity of the Red Fort commissioned by Shah Jahan between 1650 and 1656, is incorporated with massive courtyard that accommodates more than 25000 namazi (worshippers) was inaugurated by Sayed Abdul Ghafoor Shas Bukhari who belonged to Bukhara that used to be a Islamic center at that time. It is one of the main tourist attractions in Delhi. The main dome of this mosque is flanked by other two domes which provides stunning look to this place. 
5. India Gate
Situated in the vicinity of Rashtrapati Bhawan designed by British architect Sir Edward Luyten turns out to be one of the prominent tourist attractions in Delhi, visited by not only locals but also international tourists. It is a perfect place to spend your time because it is surrounded by beautiful gardens and guarded by Indian Army. It is dedicated to those soldiers who lost their lives in Anglo-Afghan war, therefore, British and Indian soldiers names are inscribed on the wall of this gate. It has Gothic architecture taken from Triumphal Arch in Paris.
6. Agrasen ki Baoli
The name of its builder is anonymous and dates back to thousands of years belonged to Mahabharat period situated at Connaught Place in Delhi. The design of this Baoli is mesmerizing and a perfect place for photographers. The main purpose of building a Baoli was to conserve water for summer, as you step down, you will still find water in it. The area of this Baoli ia 15 by 60 meters.
7. Gurudwara Bangla Sahib
Bangla Sahib is one of the most prominent places for worshiping for Sikh people built in 18th century is situated at Connaught Place in Delhi. The highlight of this temple is its magnificent pool which offers incredible view at Night that attracts not only Sikh people but also other people as well. It boasts a museum which provides history of Sikhism. Lastly to visit is a common kitchen which provides meal at no cost to all. In the list of tourist attractions in Delhi, this gurudwara secures its place at number seven.
8. The Lotus Temple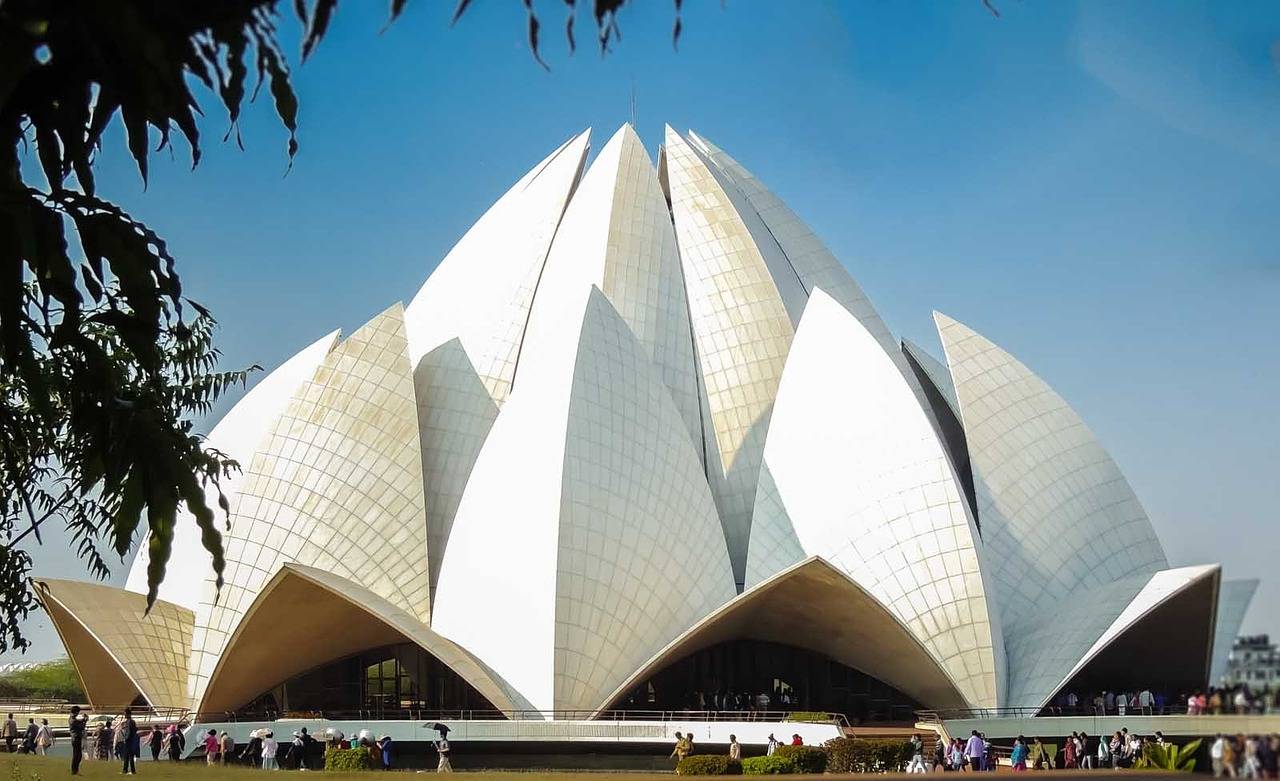 Nestled in Delhi built in 1986 by the followers of Bahai belief. It has been shaped in the form of lotus from there it gets its name. It is surrounded by nine pools of water which gives mesmerizing view and it seems to be blossoming any time of the day. It is built with white brick and marble. The most interesting thing about this temple is that it does not have portrait of any Gods.
9. Akshardham Temple
Akshardham, new modern Hindu temple inaugurated in 2007 boasts magnificent carving of Hindu Gods and Goddess sprawls in a large area. It attracts millions of devotees for its majestic beauty every year.  The highlights of this temple is that its main temple which is situated on rising platform with 43 meter high which is rich in carvings of gods, animals, musicians, dancers, and plants made of pink sandstone and marble. The boat ride for 15 minutes provides a glimpse of diversity in Hinduism which is stupendous activity for the visitors.
10. Purana Qila (The Old Fort)
The age of this fort dates back to the period of the Mahabharat which used to be known as Indraprastha created by Pandavas, the five brothers. With the passage of time, it turned out to be ruined. But it came into the limelight during the reign of Humayun, who constructed a new city, Dinpanah. But, in 1539, Humayun was defeated by Sher Shah Suri who captured this fort. Later on, he enlarged and added many stunning structures within this fort or did fortification erecting massive walls around this fort. It has been a great place for history and architecture lovers, which is why; it attracts a good number of domestic and inbound tourists every year.
Rate Your Experience!
[ Ratings:

5

From

1

Visitors ]
Comments Rating
( reviews)
Top 10 Most Visited Tourist Attractions In Delhi