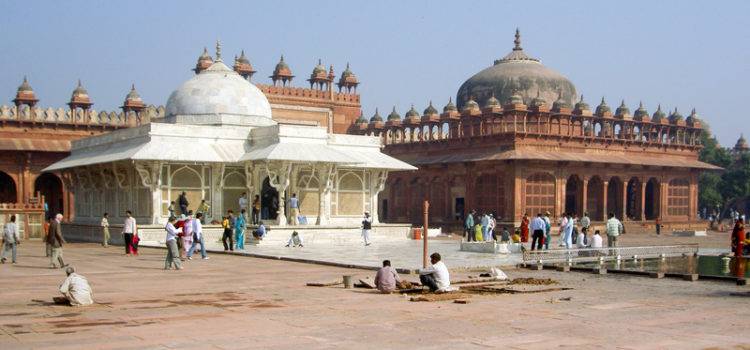 Fatehpur Sikri is one of the most popular places in Uttar Pradesh and is situated in the Agra District of the state. Its history is connected with the Mughal emperor Akbar and has been the capital of his reign. It was constructed over a period of fifteen years after an excellent planning. The structure of Fatehpur Sikri Agra includes vast palaces, harems, royal courts, private quarters and a mosque. Moreover, it consists some utility buildings as well.
Being used very heavily over the centuries, it's almost half of the quarters and the imperial complex is intact and vice versa. These complexes spread more than two miles long. A five-mile large long wall covers Fatehpur Sikri all from three sides. According to a survey, when it was excavated, the foundations of temples of Jain gods were found. These were very ancient temples and believed to be constructed in 11th century AD.
Swarup Chandra Jain who was the senior leader of Jain Community identified them as the statue of Bhagwan Adinath, Bhagwan Rishabh Nath and Jain Yakshinis. Thus Fatehpur Sikri Agra is also believed to be a Jain pilgrimage center in early era. However ASI stopped the excavation all of the sudden and put the idols and other things in the guest hour for research.
Situated on a rocky foot, the Buland Darwaza, Fatehpur Sikri Dargah also called as Tomb of Shaikh Salim Chishti and Diwan-i-Aam are the main attractions of the city. The elegant and classy architecture of buildings and places makes it a unique place to travel and have the taste of royalty of Mughal empire. Furthermore, Ibadat Khana (the house of worship) was the biggest attraction as it was the meeting house where the foundations of Din-E-Ilahi were laid by the Mughal emperor Akbar in Fatehpur Sikri. Panch Mahal which resembles like a pyramid but actually is a five storey building which decreases the size as its height increases.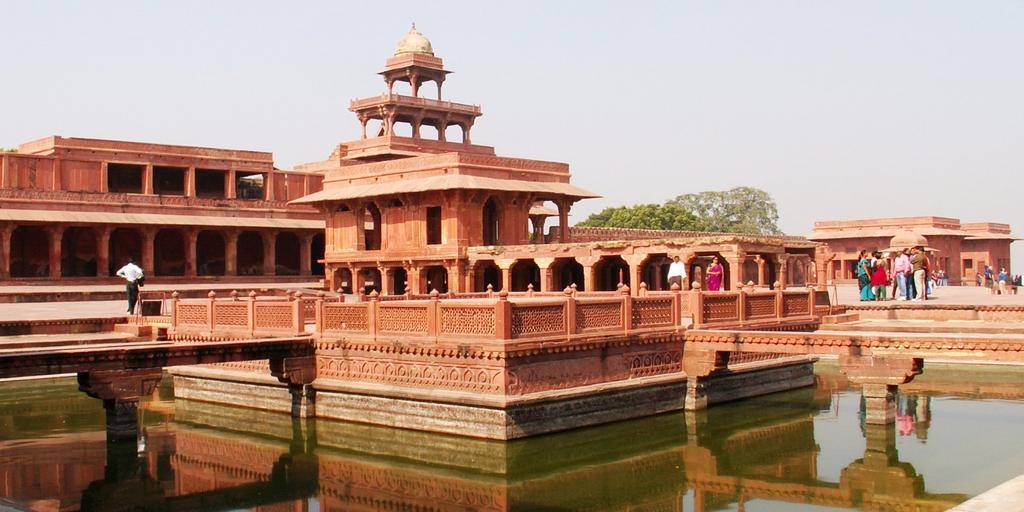 Birbal who was the dearest minister to Akbar had a quarter in the city called Birbal's House. Birbal was one of the nine gems (Ratna) of the Akbar's Darbar. Naubat Khana which is yet another attraction of the Mughal capital as was recognised as the centre of music in Fatehpur Sikri. Talking about Music in the Mughal empire who can forget Tansen. Tansen was also one of the nine gems of Akbar Darbar. He had an excellent command over music and the instruments, and this place was specially structured for listening to enchanting music of Tansen.
Apart from being a beautiful and royal piece of architecture, Fatehpur Sikri has rock solid preparations for the security of the fort and all the buildings. Hiran Minar is the first-mile post and known as a tower from where the border of the city could be seen. In other words, Fatehpur Sikri Agra has countless numbers of places to watch out. The architecture of not only the fort but also of all the buildings is tremendously beautiful and extremely popular among tourists as it is also not far away from the Agra city Airport.
HOW TO REACH FATEHPUR SIKRI
Agra to Fatehpur Sikri distance is about 39 kilometers while the nearest Airport is also located in Agra but only few regular flight are available. This place is situated on the Agra – Jaipur highway and the distance can be easily covered in 45 minutes by car. Being the centre of attraction, people coming to Agra to see The Taj Mahal also come here to have a glimpse of the Mughal reign.
FATEHPUR SIKRI TIMINGS AND ENTRY FEE
If you really want to enjoy this place, make sure you reach there as early as possible to avoid rush in peak season. Fatehpur Sikri tourist complex is open from sunrise to sunset. There is no entry fee in Dargah complex but Indians have to pay Rs. 50 for visiting Jodhabhi's place. Similarly Rs. 50 will be charged from visitors who belong to SAARC nations and foreigners have to spent Rs. 610 before entering monument. You should also consider visiting this place during winters or when sun is not too hot.
Rate Your Experience!
[ Ratings:

4.9

From

7

Visitors ]
What people are saying?
Comments Rating
( review)
Fatehpur Sikri Agra Dargah Timings, Entry Fee and History