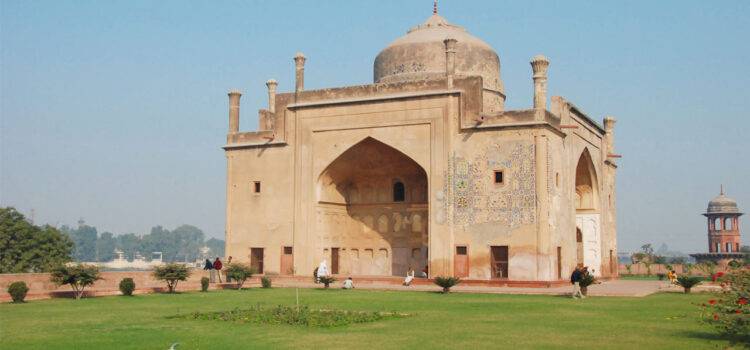 Chini ka Rauza is one of the most dilapidated and encroached monuments in Agra city which is situated on the bank of river Yamuna. This weary and teary monument has lost its grandeur due to its lack of preservation.  This monument is dedicated to Mullah Afzal Khan Shirazi, the Persian poet, who served as a court poet during the reign of Jahangir, and later on he was promoted as a prime minister of India in the reign of Shah Jahan. He took his last breath in Lahore in 1639 which is now a part of Pakistan after the partition of India in 1947. But his body was sent from Lahore to Agra for burial. So, this monument is the final resting place of Mullah Afzal Khan Shirazi. 
Lost Its Grandeur and Encroached By Locals
This monument used to be one of the most stunning places during the Mughal dynasty in Agra city. Chini ka Rauza used to be decorated with gardens and full of natural beauty. In those days, most people would come here to admire its beauty. The ignorance attitude of British as well as the Indian government leads this monument to the list of the lesser known monument in Agra. All the clay tiles are nowhere seem to be found on the dome of this monument. Still this monument needs to be visited and appreciated for its historical importance. Here are the timings when you can visit here and admire its lost beauty.
Chini Ka Rauza Timings: Morning 06:00 AM Till Evening 06:00 PM, All Week Days
Chini Ka Rauza Entry Fee: Free Entry, No Ticket Required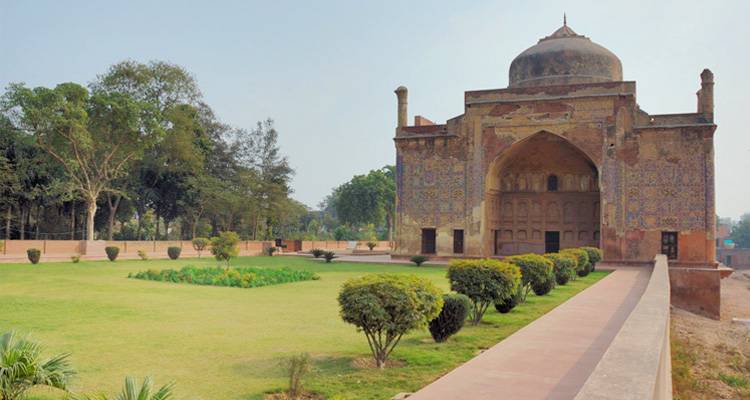 History of Chini Ka Rauza
This monument was commissioned by Mullah Afzal Khan Shirzai himself. He was alive till the completion of the monument also it was the only monument in India that is built according to Indo-Persian architecture. This monument used to be decorated with tiles that were imported from Afghanistan which is why it is known as Chini ka Rauza. The tiles were in different colors that have been faded away. The interior of this shrine is decorated with paintings and inscriptions adopted from the Quran. 
Chini Ka Rauza is situated in an isolated area and path to which goes through a local street which is around one kilometer from the Itmad-UD-Daulah Tomb and still is worth visiting. So if you are in Agra and have ample time in your hands then do not forget to visit this place.
Agra is a city that has many monuments lying here and there and it is not possible to visit all of these places in one day. Thus it is recommended that you spend at least two days here. Although Taj Mahal Agra is the main attraction but other hidden gems are also worth visiting. During your stay do not forget to enjoy the taste of local cuisines at various places.
Rate Your Experience!
[ Ratings:

4

From

4

Visitors ]
Comments Rating
( reviews)
Chini Ka Rauza Agra Timings, Entry Fee and History Info