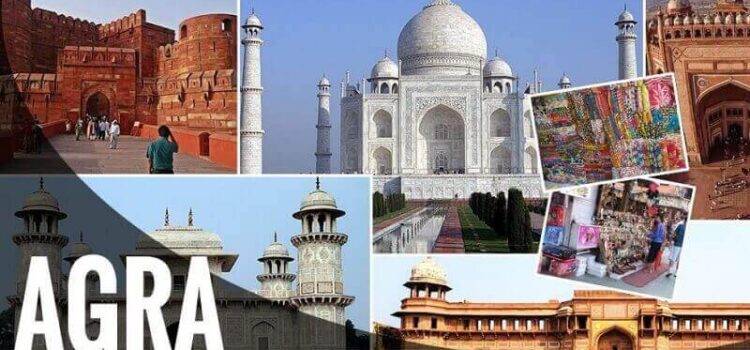 Jaswant Singh Ki Chhatri
Amar Singh Rathore was a great warrior of shah Jahan's court who died in Agra Fort while fighting against Mughal. He jumped off the wall of agra fort along with his horse, and the place where he jumped, broken torso of horse is still there.  After receiving the news of her husband death, Rani Handa, Princess of bundi in Rajasthan, wife of Amar Singh Rathore committed sati. Subsequently, his younger brother Jaswant Singh has decided to build canopy in the memory of his bhavi, the wife of his elder brother.
This beautiful chhatri was built by Jaswant Singh in 1644-1658. Architecture of this monument is a blend of Hindu and Mughal architecture. This impressive architecture was taken from shekhawati region of north Rajasthan like baradari means 12 pillars, and the dome, rest of the architecture is taken from Mughal architecture.
Hessing Tomb
The beauty of the Taj Mahal has overshadowed other monuments of this city. One of the well-known monuments is a hessing tomb which has been a victim of Taj Mahal. So, this monument is ignored and unexplored by tourists.
Johan hessing was a Dutch fighter who had joined Maharatha army and became commandant of Agra fort from 1799 to 1803. Unfortunately, he could not defend it while fighting, he made his supreme sacrifice. His wife decided to build a replica of Taj Mahal in red-sandstone in order to make his name immortal.
Rambagh Gardern
Ram bagh garden laid by first Mughal ruler Babur in 1528 which was copied from bagh-i-Gul Afashan from Kabul in Afghanistan. In this garden, temporarily Babur was buried here, and subsequently his body was taken to Kabul. Noorjhan, the wife of Jahangir did restoration work of this garden. One of the famous story of this garden is dedicated to Akbar who was a third Mughal ruler, fell in love to the gardener whose name was Aram bagh.
Akbar was bent on marring to her but she did not want to marry him. Once Akbar kept staying in this garden for six days, finally, she got ready to marry him, and she became third wife of Akbar. In reality, the original name of the garden was Aram bagh, but Maratha gave new name of this garden Ram bagh.
The design and architectural features of this garden was taken from Islamic text like a concept of char bagh, water bodies, and water courses. The char bagh it means it is divided into four equal parts with the help of waterway and paths. It is well explained in the Quran if garden has four water bodies in each segment, it means it can be a garden of paradise.
Chini Ka Rauza
As its names suggests Chini Ka Rauza is a made of chini tiles which is built in the memory of Afzal Khan in 1635. He belonged to a Persia in present, it is known as a Iran.  He was a well-known poet during the reign of Jahangir; later on he turned into being a prime minister when shah jahan was the ruler of this country. He died in Lahore in 1639 and his remains were buried in this monument.
As far its beauty is concerned it has lost its all grandeur. Nothing is left which needs to be appreciated by travelers. Most of the area has encroached by local people to construct their houses. But at an early stage, it would have been one of the most appealing monuments due to its architectural style.
Qazi Nurullah Shustari
He came to India in 1584 and belonged to shia sect. he was scholar. During the reign of Akbar, he become so prominent and helped him settle down many issues. With the help of his diplomacy, Akbar got Kashmir in his kingdom without having any war. After death of Akbar, his son Jahangir did not like him and always keep a close check on him.
He wrote one book which had some controversial content that become evidence against him, after that he executed at the instance of Jahangir. Later on, he was buried here by their followers. Among the followers of shia sect, this place is considered as a shrine.
On the whole, Agra is a hub of lesser-known monuments. All the monuments are second to none in terms of its beauty, rich architecture and its history. Due to appealing beauty of Taj Mahal, all these monuments are not explored by travelers.
Rate Your Experience!
[ Ratings:

3

From

2

Visitors ]
Five Lesser Known Monuments In Agra For Tourist Interest