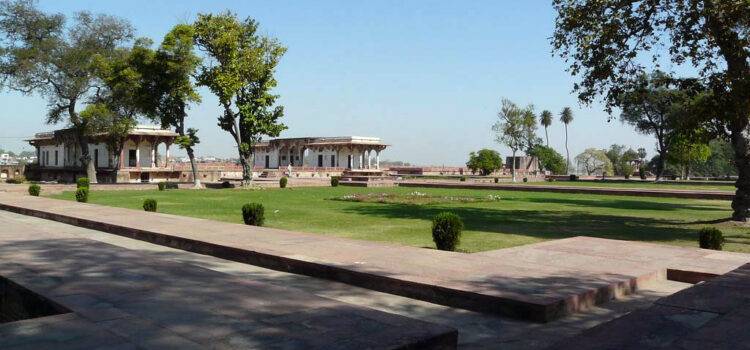 Babur laid the foundation of Mughal rule in India after winning the renowned battle of Panipat and declared Agra (The City of Taj Mahal) as the capital. At the beginning of his tenure, he was unable to conquer the climate of this city, therefore; he focused on setting a series of gardens in Agra. Bagh-i-Gul Afshan popularly known as Ram Bagh enjoys the status of being one of the oldest Mughal gardens in India which was commissioned by Babur in 1528. The name of this garden had been derived from the garden of Kabul, the capital of Afghanistan presently.
The name of this garden has been distorted many a time.  At present, it is recognized as a Ram Bagh which is a corruption of the Persian word Aram Bagh.
Jahangir who was the fourth Mughal ruler was tutelage of Nur Jahan, late on she became a de-facto ruler. During the reign of fourth mughal ruler Jahangir this garden was renovated and many new things were added but it is unclear. At that time it was renamed as a Bagh-i-Gul Afshan. The Mughal Empire was replaced by Maratha (1775 to 1803), again the name of this garden was changed to Ram Bagh by which it is known now.
Ram Bagh: The Birth Place of Romantic Love Story
The third Mughal ruler Akbar fell in love with a gardener of Ram Bagh and proposed her, but that that lady turned down his marriage proposal. While Akbar was not ready to go back with a dejected face, and he decided to stay there unless she changed her decision in his favor, that lady became the third wife of Akbar. First Mughal ruler Babur took a last breath in Agra, and for a short period he was buried in this garden. Later on his body was returned to the Kabul. 
Architecture
The layout of Ram Bagh Agra was taken from the garden of paradise according to Islamic text. It comes with char bagh pattern which is divided into four parts or waterway and paths. As per the Quran, paradise is decorated with four water bodies. Each section of the garden symbolizes each water body of the paradise. The main source of water was the river Yamuna via water cascade. The water is distributed to all part of the garden.
Timings & Best Time to Visit
Ram Bagh opens at the time of sunrise and closes at the time sunset. The best time to visit during the summer is at the time of sunrise and in the evening, and in the winter, after 10 A.M. and there you can enjoy the beauty of this garden. Bagh-i-Gul Afshan which is known as a Ram Bagh at present is a part of the tourist itinerary. This place is known for its tranquility and beauty. Many tourists visit this garden to look into what Mughal gardens are like.
Rate Your Experience!
[ Ratings:

5

From

2

Visitors ]
Comments Rating
( reviews)
Ram Bagh Agra (Bagh-I-Gul Afshan) Timings and History