Jaisalmer is situated in the heart of the Thar Desart which is close to the Pakistan border, founded by Rawal Jaisal in 1156. The city boasts of all sorts of touristic activities, including camel safari, jeep safari, sunset view at Sam and Khuri, which is around 51 Km from Jaisalmer. It has been one of the best places in India to do campaigning at the night to get an unforgettable experience of an Arabian night. Jaisalmer fort has been one of the most important landmarks to visit among travelers because it has many mesmerizing palaces within this fort that cast its spell on travelers.
Jaisalmer Fort: Golden Fort of India
Jaisalmer named after the name of Jaisal Rawal is known with many names like sonar quila, golden fort, is situated on Trikuta hill, and supported by 99 bastions and buttress to protect this fort. It is one of the living forts of India. Within this fort, there are many ancient haveli, mansions, houses, palaces, Jain temples, Hindu temples which are worth-visiting which are intricately carved. Being one of the largest and most beautiful forts in India, it draws not only domestic but also international tourists.
Patwaon Ki Haveli
Guman chand patwa was a wealthy merchant who dealt in gold and silver thread; have this haveli constructed in 1805 which was the first haveli in Jaisalmer. It is five stories building for his five sons, is beautifully decorated with paintings, intricate carving, mirror work, architecture. At present, the cluster of havelis has occupied by the Rajasthan government.  On account of these reasons, it has been placed in the tourist itinerary.
Tazia Tower
Tazia tower resembles tazia which is a part of Muslim festivities is situated within the badal palace complex has many balconies that is decorated with exquisite carving, architecture. Presently, this is a house of royal family members.
Gadisar Lake: Unique Place for Sunset
Gadisar Lake is situated in the outskirts of Jaisalmer built by Raja Rawal Jaisal to cater the need of water to dwellers. Nowadays, tourists visit this place to get spectacular sunset view of Jaiselmer fort from there.  Apart from this, a few of the activities are performed here like boating and to see migratory birds.
Salim Singh Ki Haveli
Salim singh was the prime minister when this city used to be capital of its kingdom. During his tenure, in 1815, he built a haveli which is known with his name. The construction work of this haveli was executed without using cement and mortar which has been a subject of research for the archeologists rather iron rode was used by using tongue and grooves technique.The distinctive architecture of this heveli is worth-appreciating that is dotted with 38 carved balconies. The beauty of this haveli cannot be missed by the travelers. 
Jain Temples within the Fort
Jain temple is located within the fort of this city which is dedicated to the Jain tirthankar. It was built by Jains who belonged to trading community and were religious too. They were very rich as well. Mainly this temple is dedicated to the first tirthanker whose name is Rishabhdev. The sightseeing of this temple cannot be missed by tourists because it is incorporated with a cluster of temples and they are seven and are connected through corridor.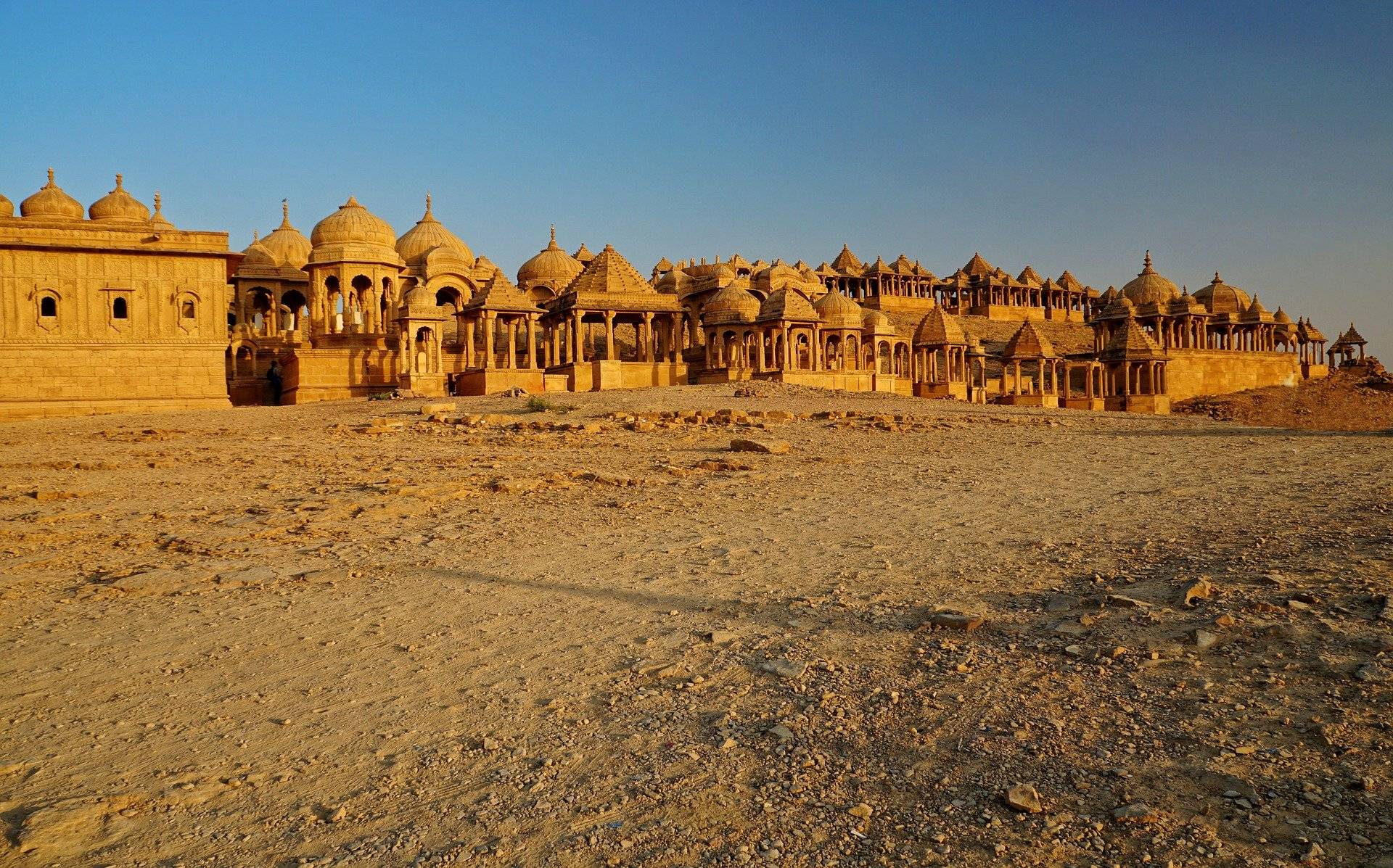 Desert Safari
Jaisalmer is surrounded by the mighty Thar Desert, which makes it one of the most prominent tourist destinations of India.  In order to enjoy the golden sand, there are many activities have been rolled out like camel safari and jeep safari has been popular activity as well. Camping in desert provides spectacular experience to the tourists.
Kuldhara Village: A Haunted Village
Kuldhara village used to be the home of Paliwal Brahmins which is situated 21 km away from sonar Quila of Jaisalmer. It is associated with many haunted, suspense, and mystery story. This is a perfect place for those people who like to visit haunted sights, deserted alleys, and sinister houses.  It has all those things which tourists like to see at a haunted place.
Jaisalmer Sand Dunes
Jaisalmer is one of the most host favorite places in India among travelers who want to visit the desert areas and get the experience of sand dunes. The city has three popular sand dunes which are Sam sand dunes, Khuri sand dunes, and Lodhruva sand dunes. Khuri is a lesser-known as well as less visited site, if you are looking for solitude, this is an ideal place for you.
How to reach Jaisalmer?
Jaisalmer nestles in the heart of the Thar Desert in Rajasthan which is accessible easily by road, train, and by air. No difficulty is faced by travelers to reach there.
By Road
Jaisalmer is having unique road connectivity which is maintained by Rajasthan roadways as well as private transporters. It can be easily connected to several prominent cities of India like Jodhpur, Bikaner, Mount Abu, Ahmadabad, Jaipur, Bikaner, etc.
By Train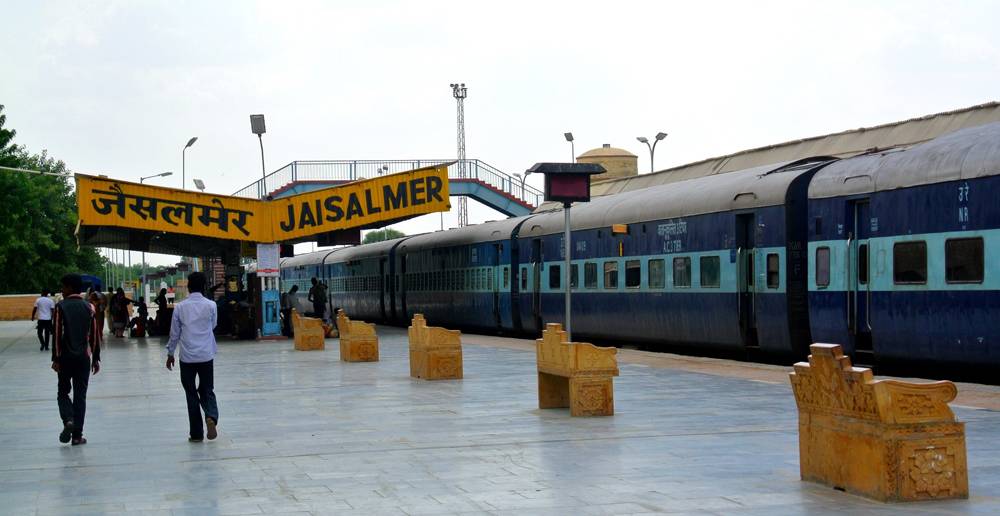 Jaisalmer can be reached by train from across India easily. Tourists from all the metros can access this city without facing any problem. In order to promote the tourism of this city, the palace on a wheel (POW) arrives here with tourists to enjoy the beauty of this place. As tourists reach here can avail local transport as well as public vehicle easily to reach their destination.
By Air
Jaisalmer is not dotted with the airport, and the nearby airport is in Jodhpur which is nearly 275 km from here. Jodhpur airport is well connected with all the major cities of India. Travelers can avail transport from there to Jaisalmer.
Best Time To Visit Jaisalmer
The best time to visit this city starts from October to March which is also known as the winter season of India. During these months, the temperature gets plummeted down by 7 or 8 degrees Celsius at the night, and during the day it soars till 24 degrees Celsius. Most of the tourist footfalls happen during these months because due to its pleasant climate. 
Rate Your Experience!
[ Ratings:

4.7

From

3

Visitors ]
Comments Rating
( reviews)
Jaisalmer – The Golden City Ultimate Travel Guide