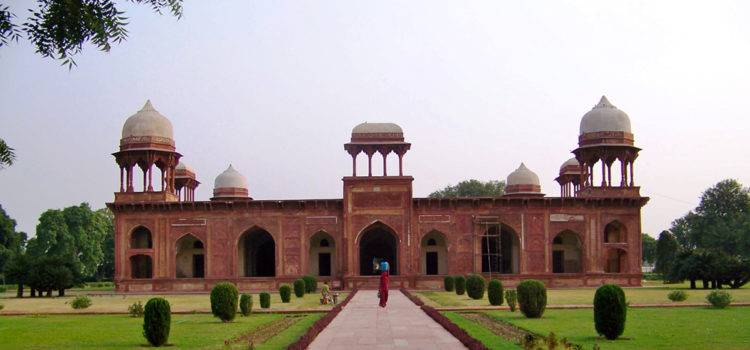 Mariam Tomb, also known as Tomb of Mariam-Uz-Zamani, is a mausoleum of Queen of King Akbar, Mariam Begum. The tomb was built by Mariam's son, Jahangir. This is such a striking structure of the Mughal dynasty and sure a place worth visiting while you're in the city of Agra. Nestled in one kilometer north of Sikandra, This Tomb is the resting place of Mariam-Uz-Zamani, the wife of Akbar and the mother of Jahangir. This tomb is a big sandstone structure with highly elaborate carvings that cover its walls.
THE ARCHITECTURE OF MARIAM'S TOMB
This popular structure was formerly a baradari, or pleasure pavilion. This was built in the 15th century by the Lodi Dynasty and remain a popular place for a long time. When the control of the land was taken over by the Mughal, Jahangir changed the pavilion to a Mariam Tomb through crypt remodeling. The mausoleum now holds 3 tombstones. Aside from Mariam's actual grave, there's a cenotaph on the ground floor and one more on the terrace. The queen's actual grave is nestled in a mortuary chamber underground.
This is closed to the public. Lodi's 40 chambers remain intact with traces of wall paintings. The heart of the ground floor is holding Mariam's cenotaph. The entire mausoleum is square shaped and it is situated in the middle of beautiful garden. The platform is raised above the ground but could be reached easily through stairs.
 2 corridors run from north to south and also from the east up to west portion. This is what divides the structure into 9 sections. The Mariam Tomb Sikandra is also built with solid mortar and bricks and is stucco-finished. The building's exterior is perfectly lined with the finest sandstones.  Further, the tomb's corners are also fitted using mezzanine floors. In total, there are 3 arches and a pair of double arches.
The tomb doesn't have a dome. This is the actual one among the very few that lack domes. The tomb is said to be identical on both sides. Unlike some other structures commonly seen in the Mughal dynasty, this mausoleum's rear end isn't a fake one but actually a real cozy entrance. Mariam Ka Maqbara is well decorated with amazing floral designs and façade of the finest sandstones. This tomb also features chevron patterns, which include geometric patterns, wine vases and typical Islamic designs. Columns are properly carved and with hexagonal bases. Below chajja, you can find some carved friezes and white marbles under the tomb.
MARIAM'S TOMB TIMINGS AND ENTRY FEE
The Mariam's Tomb is open for public from sunrise to sunset in all seasons. All visitors have to buy a ticket from counter before entering into the premises. Mariam Tomb ticket prices are as following:
Indian Citizens: Rs. 25 per adult
SAARC / BIMSTEC: Rs. 25 per adult
Foreigners / NRI: Rs. 300 per adult
Children Below 15 Years of age: Free of charge
BEST TIME TO VISIT MARIAM'S TOMB
Agra is a lovely city with moderate monsoon and scorching summer. Neither of this climatic condition is good if you want to enjoy Taj Mahal and other sightseeing. However, it would be best to visit the place during the winter. The months of October up to March are said to be the best time to visit Mariam Tomb. It's best to come during sunset or sunrise. It won't really take over two hours to cover this place. In case you're planning to come during summer, expect it to be humid and hot. Nevertheless, if you opt for luxury trains during the summer, you can surely enjoy your trip regardless of the season.
Rate Your Experience!
[ Ratings:

4.8

From

4

Visitors ]
What people are saying?
Comments Rating
( review)
Mariam Tomb Sikandra Agra Timings and Entry Fee