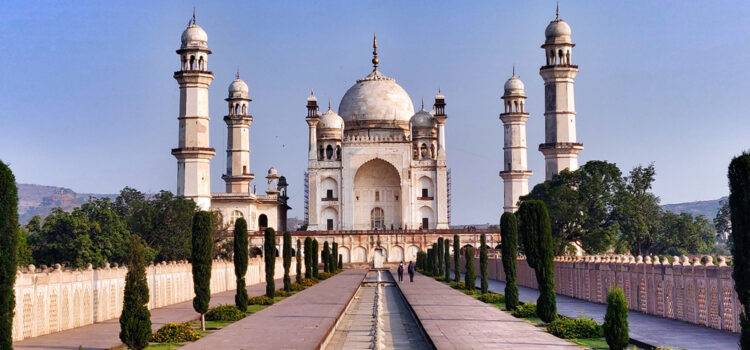 Taj Mahal is one of the most visited monuments in the world, and it has been an epicenter of all the replicas. Shah jahan built Taj Mahal in memory of his beloved wife Mumtaj who died while giving birth to his child in the seventeenth century and which took twenty-two years to build. This monument seeks a lot of attention from history and architecture geeks as well. In the ambiance of this monument, one can feel the essence of love and that is why it is recognized as a romantic monument in India. Have you ever thought about the replicas of this monument? This post is going to cover most of the replicas of the Taj Mahal which were built in India.
Bibi Ka Maqbara
Bibi ka maqbara built by Aurangzeb from 1651 to 1661 in Aurangabad, and is also known as the Taj Mahal of the Deccan. It has been built in memory of his beloved wife whose name was Dilaras Banu Begum.
The beauty of this monument is mesmerizing that receives thousands of tourists every year. The chief architect's name was Ata-Ullah who was the son of the chief architect of Taj Mahal Agra, Ustad Ahamad Lahauri. The architecture of this mausoleum is very similar to the Taj Mahal like towering minarets, raised platform; the facade of this monument is decorated with white marble, and garden, all these components leave visitors spellbound.
Mini Taj Mahal Built by Post Master
This mini Taj Mahal is built by a post master in 2011 in memory of his wife who died due to throat cancer. He did not have enough money to start construction of this monument, but for making his dream come true he sold his heirlooms and collected around $ 13500.  The money which he saved entire his life and he did not feel hesitated even for once to spend that money to build this monument to make his spouses' name immortal.
An Amusement Park has Taj Mahal
Kota is well-known for producing doctors and engineers who give their best services globally. But this time, it has earned its limelight in the field of architecture, due to one of its amusement park which is decorated with a replica of the Taj Mahal that is so beautiful and eye-catching and receives thousands of tourists. The best time of visiting this amazing park is in the evening as during the evening it is lit up. 
Red Taj Mahal Built by a Dutch Lady
In those days, it was very a common practice for the European people who would come to India to get a job, they were well-paid and respected, one of the easiest things was that it was very easy for them to adopt Indian culture, food, and clothes, and get married to Indian girl without having any sort of barrier. John Hessing was one name who served under many Indian Maharaja and Nizam, and later on joined the Scindia's army but while protecting the Agra Fort he sacrificed his life. Subsequently, his wife and son decided to build a replica of Taj Mahal which is known as a red Taj Mahal in this scenario. Due to a dearth of the fund, they could not build it in white marble.
The main aim of posting this article is to bring your kind attention to replicas of the Taj Mahal built by several persons for their beloved. Due to the beauty of the Taj Mahal, the replicas of this monument have been overshadowed. Hopefully, you will enjoy visiting these monuments as well.
Rate Your Experience!
[ Ratings:

3

From

2

Visitors ]
Comments Rating
( reviews)
Replicas of Taj Mahal Built in Memory of Beloved Ones