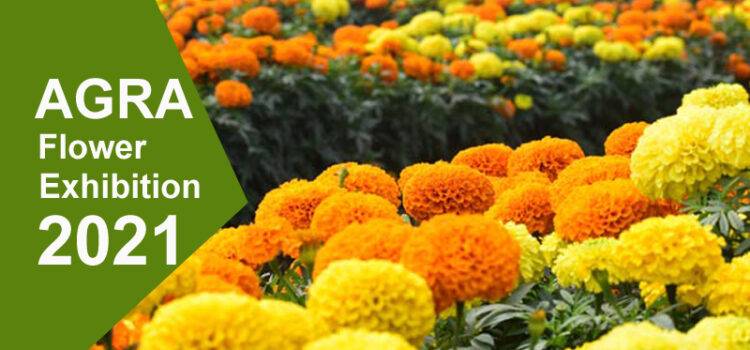 Agra, a tourist hub, the city of one of the 7th wonders of the world, the city of the world heritage site draws millions of inbound and domestic tourists every year. But this year, the life of this city has come to standstill due to the pandemic and the inhabitants of this city felt shackled virtually at their homes. Thus, they had to remain within four walls to avoid being victims of COVID-19. Despite having negative surroundings at this time, Agra's horticulture department played a leading role to inspire people to engross themselves in the company of flowers, seeds, and vegetables. They set up mesmerizing flower exhibition between Agra Fort and Taj Mahal on the bank of river Yamuna.
The horticulture department of Agra set a new landmark in this gloomy environment by organizing a flower exhibition that lasted for two days between 20-21 February. The flower exhibition was held in the vicinity of both Agra Fort and Taj Mahal that has been a vantage point for the shutterbugs. The people and the tourists had fun out there seeing a wide range of flowers, vegetables, and seeds. In addition, so many exotic things were out there which were presented for the first time for people. 
Vote of Thanks Given By Dr. Sanjeev Kumar Verma
Dr. Sanjeev Kumar Verma, superintendent of the horticulture department addressed the media and gave a bundle of thanks to the horticulturists and people who gave their invaluable supports to make this program successful. Especially, in this period when all the conditions were not in favor. He showed his gratitude by addressing people to say thanks a lot to come out of their houses to appreciate and make this program memorable. 
The Overwhelming Feedback Was Given By Visitors
People, who turned up there and gave their views regarding this exhibition in an amazing way, one of its visitors said:" Flower exhibition grabs several eyeballs". Others said, "It has been a great place to spend quality time with family after pandemic". Others say this flower exhibition is enough to feast our eyes. In a nutshell, the feedback was thrilling and overwhelming which tells the success story of this exhibition.
Attractions of This Exhibition
All of the programs were chalked out in a precise manner. But some of the things stole the limelight like the decoration of palanquin with flowers like gerbera, marigold, petunia, orchid, rose, chrysanthemum, and dahlia that has been a selfie gateway and other major the attraction was to giant radish that many presents out there would have never ever seen in their life.
The flower exhibition attracted tourists from neighboring states who made their presence to support the hard work of the horticulturists also visited other tourists' attractions of this city. The flower exhibition which was held in Agra on the bank of Yamuna works as a pain reliever and stress buster after the pandemic. The happiness which visitors wore on their face was soothing in this difficult time. People coming out of their homes by casting their fear of COVID aside made the exhibition extremely successful.
Rate Your Experience!
[ Ratings:

4.5

From

2

Visitors ]
Comments Rating
( reviews)
Stunning Flower Exhibition Draws Thousands of People