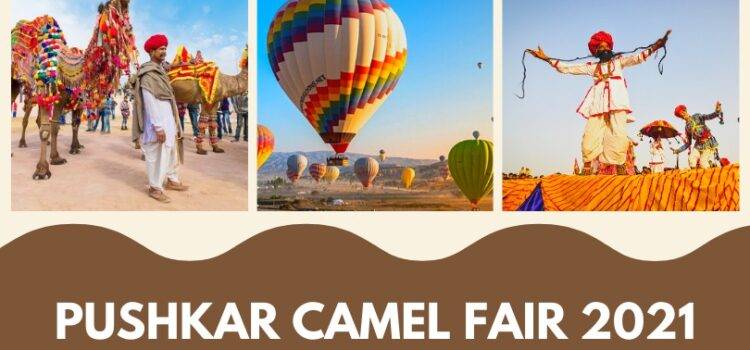 Sparkling culture of Rajasthan has been a representative of India as well this state. The age of this festival may be more than 100 years and is held in the month of November for five days. Taking convenience of tourists into consideration, it is conducted in winter so that the climate of this city can soothe its guests in utmost manner. It is one of the largest camel fairs in the world, which is conducted every year. By visiting this fair, one can get to experience the beauty of the sand, which represents valor and culture and traditions of Rajasthan. Why you should visit the Pushkar fair at least once in a life. In order to book your trip for this fair, here is complete information which will help you a lot in 2021.
Reasons to Keep Pushkar Fair Under Spotlight:
Visiting the vibrant land of Pushkar, one can experience Rajasthani culture very closely which has been preserved by its residents since many centuries.
You can have a chance to see the fusion band of Rajasthan performing live.
This festival provides good insight into traditional camel trading, for which it is primarily known.
Through hot air ballooning, one can have bird's eye view of this city that will certainly leave you in awe.
Being a part of the society, it is a great fun and memorable moment for the tourists.
Plan of Pushkar Fair in 2021:
Traditionally this festival runs for five days but this year in 2021 it has been extended for 9 days. Festival marks it beginning with a harmony marathon which starts at 6 A.M, from Dargaha Shareef in Ajmer and comes to an end at the Brahma temple, Pushkar and it is part of day one program. To participate in this marathon is a matter of absorbing in culture; it displays the uniqueness of this fair. While this fair will end on the bank of Pushkar Lake with Aarti, followed by massive fireworks, and its timing will be from 6:30 A.M. to 9:00 P.M. 
Key Points of the Pushkar Fair:
Each day of this nine-day fair has been very precisely designed to represent Rajasthani culture. With every bit and piece of this fair, you will get to experience something new and unique. In order to avoid missing any activities, you must note them down because I am damn sure no one would like to miss a chance to have a peek into one of the most unique and vibrant cultures of such a diverse country as India.
Day 1: harmony marathon will mark the onset of this fair followed by hot air ballooning and live performance of one well known rajasthani  band will end the day leaving you in anticipation of what is more in store. 
Day 2: The next day the langari taang, dancing competition and camel decoration event will be conducted in which you will find many foreign tourists participating. In the evening, there will be sunset safari at the sand dunes.
Day 3: This day is dedicated to the horse dancing, Shilpgram handicrafts market, and in the evening cultural programs.
Day 4: This is a perfect piece of harmony by seeing or participating in the spiritual walk from Gurudwara to the fair ground. After that you will find incredible cultural programs on the ground.
Day 5: This day is scheduled for unique competition like Mustache, turban tying, and kite flying competition.
Day 6:  Mataka race as well as musical chair like competition makes the day memorable for tourist.
Day 7:  on this day, adventurous activities are conducted.
Day 8: the last day of the fair, this day mega cultural activities, mataka race, camel race, and kala jattha, and closing ceremony are held.
Apart from the above-given activities, there are many other things which can be done by tourists like visiting shop for painting jewelry, doing photography, tasting local delicacies, and many more. Pushakar fair is one of the most prominent fairs in India which draws a large number of tourists from across the world. It has been a leading livestock trading event of Rajasthan and India as well.
Rate Your Experience!
[ Ratings:

5

From

1

Visitors ]
Comments Rating
( reviews)
Worth Seeing Hidden Culture Of Rajasthan At Pushkar Mela