In Agra, the Taj Mahal, one of the most visited monuments which attract more than eight million tourists in a year. This count is increasing by leaps and bounds with every passing year. The magnetizing beauty of this marvel is increasing with passing time hence attracting internationally acclaimed hotel chains and shopping outlets along with tourists. Sunlight falling on the Taj Mahal imparts different colors to it thereby attracting tourist to visit it during the day but many people also get chance to visit Taj Mahal at Night. Other reason to visit Taj Mahal during the day is this, shutter bugs like to be there when it has blue sky that is one of the best colors to take the shot of this monument.
From dawn to dusk, it remains busy and receives thousands of footfalls, but the dawn in the premises of Taj Mahal is so magnetizing and becomes a part of indelible memory. The view of Taj Mahal at Night is a chance to celebrate in the premises of this monument, is one of the best ever experiences one could enjoy. Luminous, incredible, and glowing white marvel shines with all its glory and pride.
It is ready to serve its un-faded beauty even in night as well to the visitors without being tired but that is only possible for five days in every month which happens two nights before on the night of "Purnima" (known as a full moon night), and  two nights following the full moon. Dates and timings are in the hand of Archaeological Survey of India to decide the view of Taj Mahal at Night. Timing of this special view starts from 8:30 to 12:30 which comes in eight slots, and fifty tourists can accommodate in each slot and tourists of each slot can stay for thirty minutes in the premises of this monument. And by and large, 400 visitors can make their presence on a one night.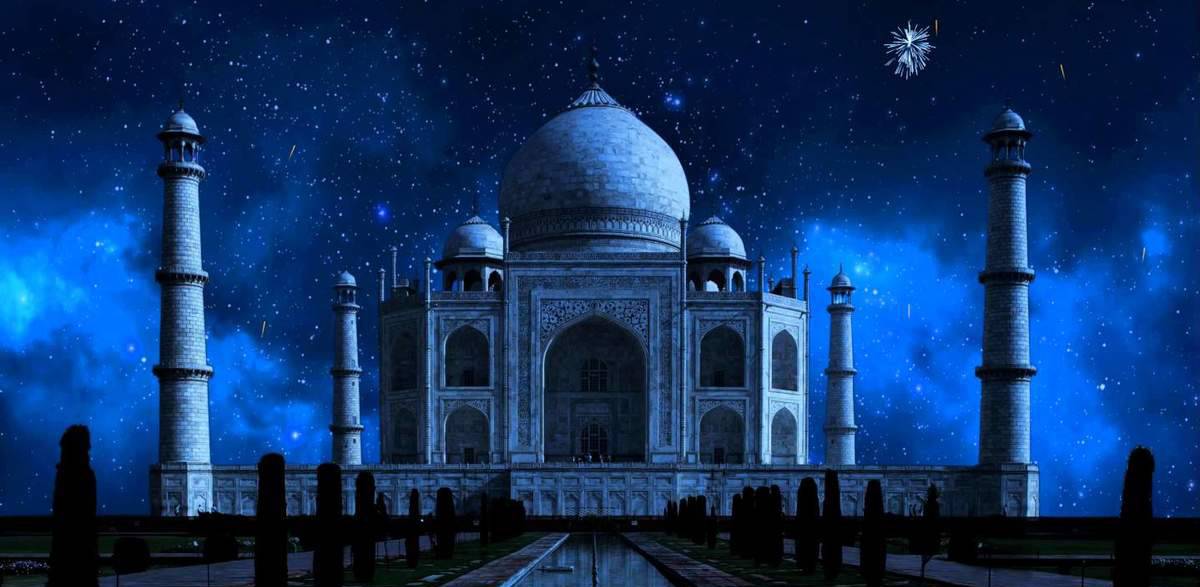 In order to visit Taj Mahal at Night, all visitors must be at the "Shilpagram" parking before thirty minutes of allotted time, the reason for being there before 30 minutes is to leave your belongings, luggage and prohibited stuffs at a security check point before you get an electric vehicle to proceed. During the night visit, especially, video camera finds its place in the list of prohibited goods so; you are advised to leave it either in a car or at hotel.
Tickets
Tickets for night viewing are available 24 hours in advance at ticket counter of the Archaeological Survey of India, 22 Mall Road, Agra contact no 0562-2227261, 0562-2227261.
For adult (Foreigner): Rs 750
For adult (Indian): Rs 510
Children (both Indian & foreigner) 3-15 years: Rs 500
Children below three years of age: Free Entry.
The entry to this monument is closed on Friday during the month of "Ramzan" for the night view, and the rest of the calendar for full moon is kept as usual. With the help of astronomical calculation, the date of moon night is declared on the website of Archaeological Survey of India, so before one makes a trip of Taj Mahal must visit website to get a ticket to view Taj Mahal at Night.
Tips To View Taj Mahal at Night
Make up your mind to go through strict security during night views.
Not to bring bags and mobiles inside the monument. Only camera is allowed to bring it within monument. But, Videography is not permitted.
To get a good view of moon light depends on light which falls on Taj Mahal. Sometimes, enough light is not available during the moon night. So, tourists get disappointed and remember that it is a part of fortune.
If you are in Agra, don not miss golden opportunity to catch sun rise and sun-set view of this monument. You will get struck to see the beauty of this monument.
Taj Mahal, one of the Seven Wonders of the World which looks stunning all the time of the day, but Taj Mahal at Night is incredible and unforgettable for the visitors. That is why most of the tourists are keen to visit during the full moon night.
Rate Your Experience!
[ Ratings:

5

From

1

Visitors ]
What Visitors Are Saying?
How To See Taj Mahal at Night Complete Travel Information