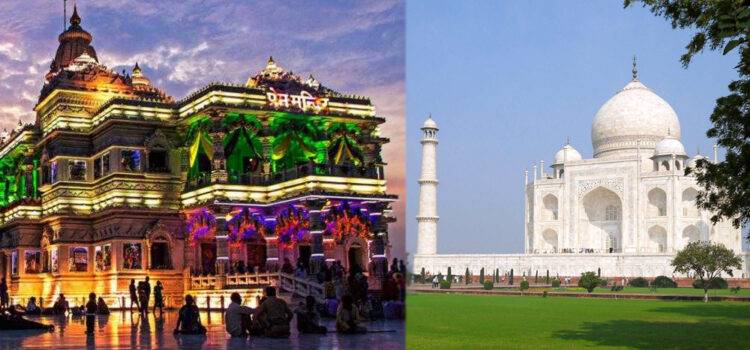 Agra, Mathura and Vrindavan are the hot desired places on every tourist's bucket list. Agra got fame due to Taj Mahal has been enlisted in the list of Seven Wonders of the World whereas; Mathura and Virindavan are dedicated to the lord Krishna therefore listed as one of the holy places of India. These sites offer you great insight of this country.
Weekend travelers can make the most of their tour just within two days which are going to be full of fun and excitement. Most of the inbound tourists land first in Delhi, and itinerary moves from there, first and foremost, pick the mode of the transport from (Delhi) Capital of India to Agra. The fastest transport is rail transport. There are many trains available from Delhi to Agra. So, you can select anyone out these many trains as per your leisure.
Tourist can reach at Nizamuddin railway satiation to board into a train, which will reach Agra around in 90 minutes. This is one of the easiest ways to reach Agra.  Via online, you can book your seat by filling form, there are a few simple steps need to be followed by you, like starting point, date of journey, destination where you want to be there, day of travelling, and so on. You can book your journey that suits you a lot.
Day 1
Your train will reach Agra by around 9:45 A.M. after that you will find your cab that you have booked in advance and then, your chauffer will drive you to the hotel or the monument according to your itinerary.
Most of the tourists after getting freshen up, prefer their sightseeing, being fresh, you are advised to visit Taj Mahal first, spend your valuable time around two hours inside the monument.  The beauty of this monument will leave you dumb-founded, you will be lost. The mesmerizing view of this monument does not let you take your eyes off, in front of your eyes; nothing is there except the Taj Mahal.
You will find wonderful view of cloud. During the sightseeing this monument, you can use your gadgets for clicking photo as many as want. If you want to hire professional photographers, you can book him.
Now, you can move to Agra Fort and be ready to spend around one and hour inside this monument. Agra fort, one of the world heritage sites, which is abode of many palaces inside this monument built by rulers of different Mughal generations. This fort finds the place in the list of beautiful forts of India. It is decorated with red sand stone and located on bank of river the Yamuna. The garden of this fort is very beautiful, and decorated with water channel that adds new color to its beauty.
After having lunch, you can visit Baby Taj Agra which is built by Queen Noor Jahan in the memory of her parents. Noor jahan was the wife of Mughal emperor Jahangir. She was conferred with Malika-e-Hind by Jahan Gir. During the reign of Jahangir, Noor jahan's father rose to power the position of prime minister. In 1622, her father died, six months later her mother died, then she decided to build mausoleum in memory of her parents. None of the extended members has been buried over there. It is a blue print of the Taj Mahal, The concept of the tajmahal was taken this monument. Some of the historian says that this monument is more beautiful than Taj Mahal in some aspects.
Day 2
After having breakfast, you can proceed to Mathura directly by car that you have booked via online or hotel cab service. It takes around one hour and thirty minutes. Sometime, the duration of the sightseeing depends on traffic, if you find traffic in the way, it will take more time. Otherwise you will be there in given time.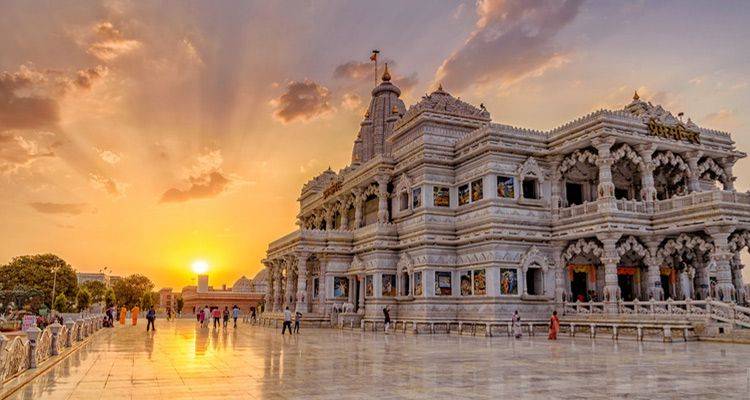 The Birth Place of Lord Krishana
The birth place of Krishna is known as Shri Krishna Janambhomi where lord Krishana was born; to make the place memorable wonderful temple is constructed there, if you visit the temple, you are not allowed to bring any things with you like mobile phone, camera, tri-pod and many more. The sightseeing of this temple lasts for 45 minutes, and proceeds to Virindawan that takes around one hour to take you there. 
Temple of Bankey Bihari Ji
Bankey Bihari Ji temple is one of the most prominent and oldest temples in Virindavan which attracts millions of the tourists every year, in order to get glimpse of lord Krishna. The route to the temple is quite uncomfortable; you will have to pass through narrow lanes. Beware of monkeys who are good at stealing things, so don't need to carry sun glasses, mobile phones, camera, and especially any edible stuff.
After visiting Mathura and Vrindavan, you can catch your train to Delhi from Mathura junction railway station. This journey will take around two and half hour to reach Delhi.
Rate Your Experience!
[ Ratings:

3.8

From

5

Visitors ]
Two Days Weekend Tour of Agra, Mathura and Vrindavan